STATUS: Concluded, please find the full report here.
Place: Vietnam
System Type: National Economy
Challenge: Circular Economy Transition
Partners: UNDP (Lead), Embassy of Finland in Hanoi, EIT Climate-KIC
In Da Nang, a coastal city with a little more than 1 million inhabitants and home to a burgeoning tourist sector, it is not uncommon to see on the crowded streets middle-aged women riding bicycles loaded with an almost unimaginable quantity of cardboard, plastic, or other recyclables.

These women are known as ve chai, or informal waste workers (IWWs). They play a critical role in the handling of trash in Da Nang and other cities throughout Vietnam, collecting as much as 9% of the volume of trash that is brought to the city's landfill each day.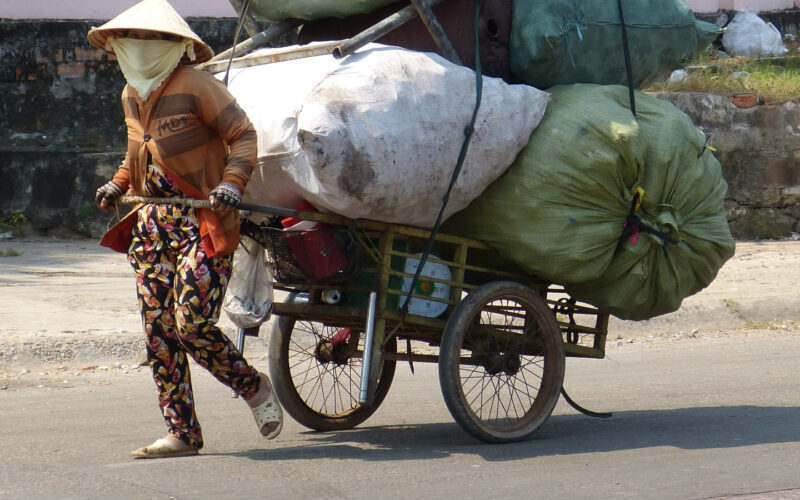 The Impetus to Move to a New Economic Paradigm
How to manage solid waste is an increasingly pressing problem for Vietnam. The country currently ranks fourth in the world for the volume of plastic discharged into oceans—about 1.8 million tons each year—where it harms marine life and contributes to water pollution that wipes out an estimated 3.5% of GDP. If left unchecked, this issue will worsen, as Vietnam's volume of solid waste is expected to grow by 89% by 2050.
The plastic waste challenge is one of the negative consequences of Vietnam's spectacular rise from one of the world's poorest countries to a middle-income nation, which was triggered in the 1980s by political and economic reforms known as Doi Moi.
Moving from a centrally managed to a market-oriented economy has brought prosperity to many of the 96 million people of Vietnam. But it has also come with considerable environmental costs, not just in terms of plastic waste but also in the form of soil degradation, resource consumption, biodiversity loss, and air pollution.
In addition, Vietnam is among the countries that are most vulnerable to the impacts of climate change, particularly to flooding from sea-level rise and extreme weather events in low-elevation coastal zones.
Moving towards a more sustainable and inclusive economy has become an acute imperative for Vietnam, a necessity to preserve the prosperity of its economy, safeguard its environmental assets, and strengthen the climate resilience of its people.
This is why the Vietnamese Government has developed a long-term vision for the transition of its economy from an extractive, linear model to a regenerative, circular version, and why it has underpinned this vision with a set of environmental laws that lay the foundation to design circular economy principles into the product lifecycle of goods produced and consumed in Vietnam.
"Circular economy is an economic model in which design, production, consumption and service activities aim to reduce raw material extraction, extending the product life cycle, reducing generated waste and minimizing negative impacts on the environment." — Article 142 of Vietnam's Law on Environmental Protection 2020
This transition will play out in the context of Vietnam's continued journey along the development continuum, which is significantly shifting the financing framework for its efforts to progress toward the SDGs: reduced development assistance, a declining tax-to-GDP ratio, and decreasing public financing.
Meanwhile, the impact of COVID-19 continues to reverberate throughout the country, disrupting the entrepreneurial supply and production chains that are the backbone of its economy. So making progress towards the SDGs and Vietnam's national climate commitments—more than ever—requires a systemic intervention approach that engages multiple levers of change through a mission-led, portfolio-based innovation programme.
Catalysing Vietnam's Circular Economy Transition
UNDP has an extensive track record in providing technical advisory to advance the formulation and implementation of climate policies in Vietnam. More recently, it has gained a set of unique insights into the plastic waste challenge by operating an Accelerator Lab focused on waste management in Da Nang.
Based on these experiences, UNDP's has launched a Deep Demonstration programme that convenes a diverse set of international and domestic experts to develop a portfolio of strategic interventions that help initiate and accelerate Vietnam's transition to a circular economy. These interventions span different scales (individuals, streets, cities, sub-regions/regions, national, and global) and domains (government, finance, technology, social, mobility, media, etc.), and they focus on the role of micro, small, and medium enterprises (MSMEs) as agents of change.

The TransCap Initiative is aiming to orchestrate investment capital into this Deep Demonstration, providing financing for MSMEs, infrastructure projects, and other assets with the potential to amplify UNDP's broader system intervention approach. UNDP is partnering with the Embassy of Finland in Hanoi and with EIT Climate-KIC to explore how principles of systemic investing could be harnessed to shape Vietnam's circular economy transition.
The ambition is to demonstrate the principles of systemic investing through a multi-year, multi-stakeholder systemic investment programme. As a first step, the partnership is developing a feasibility study that will illuminate the theory of systemic investing—as exemplified by the transformation capital approach—through the specific example of plastic and waste management, including through providing a high-level systems map and a hypothetical investment portfolio spanning multiple asset classes. This feasibility study will lay the ground for designing and implementing a longer-term systemic investing programme supporting sustainable plastic and waste management systems in Vietnam.
In our work, we are particularly keen to forge new investment partnerships between domestic, regional, and multilateral investors from both the public and private sectors. We are also exploring how fintech could enable us to tap into a growing middle class in order to help democratise sustainable finance and enable Vietnamese citizens to participate directly in the financing of Vietnam's circular economy transition.

Next Steps
Prototyping work in Vietnam started in the spring of 2021 and is currently ongoing. We expect to publish the feasibility study in the coming months. Meanwhile, we are particularly eager to hear from the multilateral development finance community what they would be looking to learn from such a feasibility study, and to express their interest in joining the effort.
How to Engage
If you want to learn more or get in touch, contact Ida Uusikylä at UNDP or Dominic Hofstetter at the TransCap Initiative.