Mid-September 2022 marked an exciting moment for our small (yet mighty), international (yet connected), and multi-disciplinary (yet united) team: we were all in one place for the first time.

It was a critical moment in the development of a systemic investing logic and we could not help but share some of our early discussions with you.

Overlooking Zurich's skyline, flip-charts and post-its in hand, we endeavoured to shape an organisation capable of achieving our stated vision:

To improve the way sustainable finance is purposed, programmed, deployed, and managed so that money can become a transformative force in building a low-carbon, climate-resilient, just, and inclusive society.

So, how do you blend the expertise of futures and systems change folk, serial entrepreneurs, sustainability consultants, public relations leaders, youth mobilisers and impact investors and target that blend towards this one vision? You do it like so:

1. You Build a Space for Innovation
We aspire to build an organisation that is different from those who have come before. The team exploring and developing the field of systemic investing is unique in its capabilities and composition, as shall be our approach. As one global core team, we are blending our distinct areas of expertise to deliver across the three interrelated spheres of our Space Blueprint: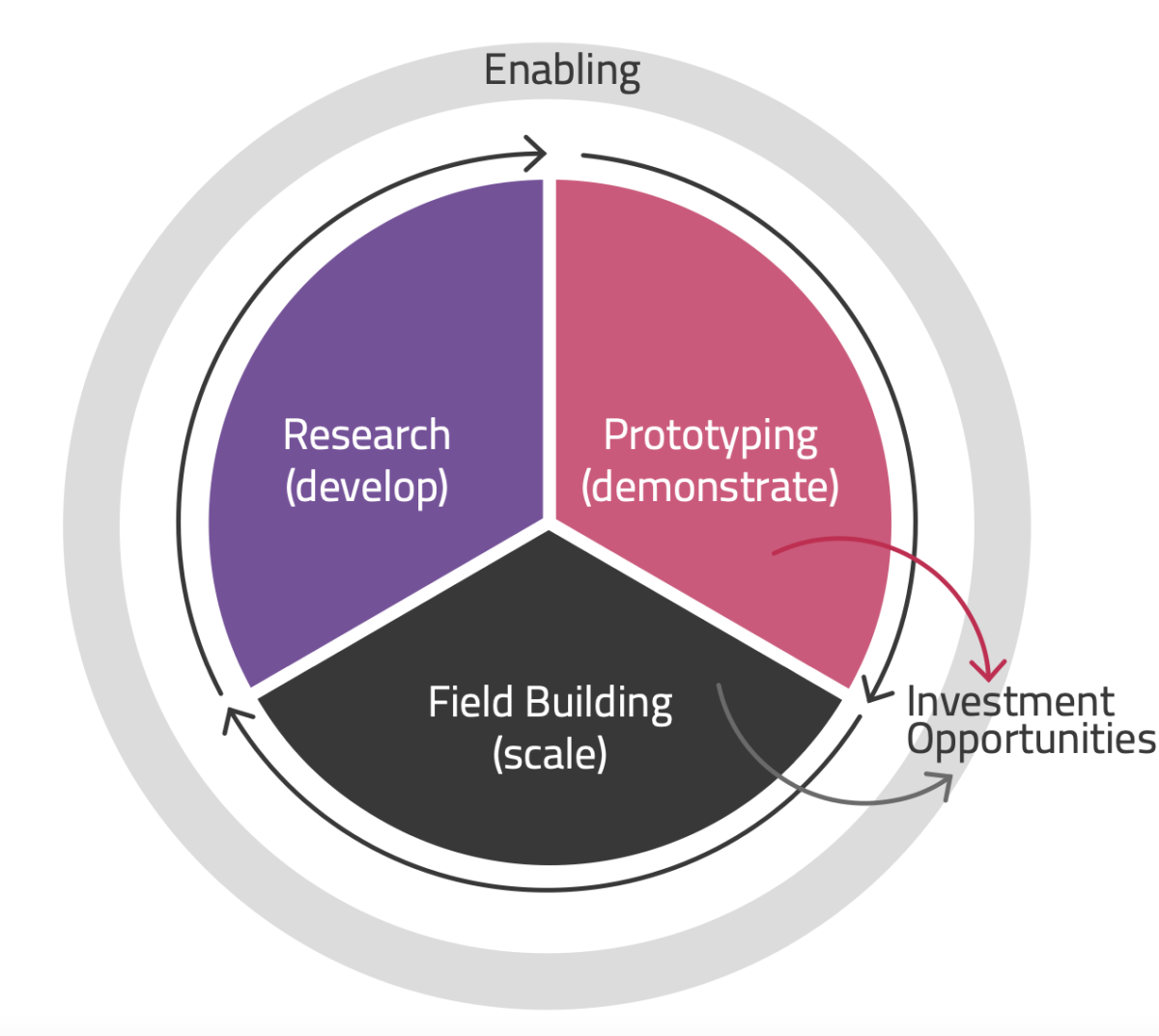 Research & Innovation

The conceptual development work is structured around a set of action-oriented research questions that derive directly from the Transformation Capital design space. These questions mark a point of depar- ture for the TCI but represent only a hypothesis of how to operationalise a systemic investment logic. The work will be carried out by the TCI's innovation community (in partnership with leading research institutions and models) and build, wherever possible, on existing efforts in the world of sustainable finance, systems thinking and entrepreneurship.

Prototyping
What we aspire to do is bold in both scope and ambition and fundamentally different from traditional investment approaches. It therefore cannot be designed through desk research and consultative stakeholder engagement alone. Instead, it must be approached as an iterative learning journey that starts with loosely held definitions and refines those with knowledge gained from real-world experience. We give the contexts in which such learning takes place a name: prototypes.
A prototype offers a space for people to convene and collaborate, contextualises this work, and makes it meaningful for its participants. A prototype will thrive if it:
accommodates variety across multiple dimensions such as actors, relationships, problems, assets, transactions, and disciplines,



exhibits diversity across gender, age, and academic, professional, and cultural backgrounds,



allows for serendipity of encounters, collaborations, and outcomes, and



fosters a culture of curiosity, experimentation, and risk-taking.
Prototypes are also spaces for learning. Such learning takes place on multiple levels and is iterative, i.e. the experience gained by applying the theories of Transformation Capital produces valuable insights that can be used for subsequent refinement. The design space offers a rich menu of elements with which to experiment. While some prototypes will strive to do work across the entire design space, others will opt to focus on a limited number of modules. A rigorous, multi-level learning and sensemaking design will ensure that the experiences and insights captured during prototyping will, over time, translate into capabilities that are both tangible and transferable to other contexts. Finally, prototyping will create spillover effects. It will deliver the proof points that underpin the storytelling, field building, and fundraising necessary to sustain momentum in the TCI and allow it to progress along its impact pathway.
An example of a prototype is our current work in Net-Zero Mobility in Switzerland.
Field Building
Building an active, diverse, and enabled community of practice dedicated to systemic investing is necessary to unlock change at the scale and pace the world needs. The TCI will seek to build the social space, the information and knowledge infrastructure, and the deal platforms necessary to diffuse the Transformation Capital approach throughout the world of sustainable finance. In so doing, it will leverage best practices from the domains of field building, design thinking, and storytelling.
A key element of its field building effort is what we call institutional anchoring, i.e. the alignment of the TCI with institutional mechanisms that compel challenge owners to find ways of investing in ambitious climate action plans. Examples of such mechanisms include national net-zero laws, city-level climate strategies, or the NDC investment plans under the Paris Agreement. The deliberate design of the TCI with respect to these institutional obligations can drive demand for its offering and thus accelerate its uptake.
Enabling
A backbone team will build the enabling factors that put the TCI on a solid platform. It will also nurture and coordinate the fledgling innovation community, which entails orchestrating the members of the innovation community, coordinating the work programme, marshalling resources, developing and maintaining an effective governance framework, and telling the continuously evolving story of Transformation Capital to a broader audience.

2. You Define Enabling Culture
That which cripples most young organisations in the long-run is an erosion of culture, increasing the risk for infighting or scope creep. To us, culture is the foundation upon which we will build, an enabling essential for agility in a purpose-driven organisation.

We took the time to point our fingers at elephants in the room and elaborate on our individual expectations and personal "stinky fish". Building culture is hard work and requires frequent check-ins and iteration. It is not something decided and imposed, but something grown by the people that make up the whole.

Its development can be guided however, and we wanted to share some of our leading principles in the hopes that they may inspire others to take the time and find the bravery to ask the tough questions up-front.

Commitment, Craftsmanship & Failing Forward
Let one thing be true about the TCI, it is that we are committed. Committed to the vision we strive to make a reality, committed to each other, our partners and the body of work we are creating. Enabling impact within the world of sustainable finance is serious business, a task we honour with dedication to craftsmanship in everything we do, from research design to reporting. However, systemic investing is a field in need of exploration and discovery. Discovery of what works and what doesn't. And so we commit ourselves to finding ways to craft with care when needed, as well as failing fast and failing forward when an approach does not bear fruit. In short, we commit ourselves to adaptability.

Ambition, People-first & Joy
As any impact-led organisation can attest to, we are made up of a group of greatly ambitious individuals. The need for sustainable finance being enabled by systemic investing is very real. It is serious. However, an organisation doing serious work can easily run out of steam and be bogged down by the weight of responsibility. We will be no such case. For the TCI, a serious mission does not contradict playfulness in working towards it. Ours is an organisation that puts people first and allows for joy at work.

Diverse Challengers, Courage & Trust
Diversity of people and thought is what makes us unique. It is this diversity which allows us to craft, challenge, dismantle and rebuild ideas that do what we are here to do: scaling a new investment logic at the intersection of systems thinking and finance practice. Within the TCI and within our partner network, nobody's voice shall be left unheard, echoing into the void as a wasted breath. This is an organisation of deep-listening and communication, one that dedicates time to building a trust among its members that we consider to be the foundation for courageous open conversations. Fundamentally, we are challengers. Challengers of ourselves, existing paradigms and the comfortable status quo. To challenge, we must go to those places that are uncomfortable and have the conversations others avoid for the sake of superficial harmony.
Stay tuned for more and be sure to follow us and engage on LinkedIn and Twitter.
If you want to learn more about who is behind TransCap's efforts to marry sustainable finance with systems thinking, be sure to check out our People page!